The Design of what's Given
The work, legacy and future of Backen & Gillam Architects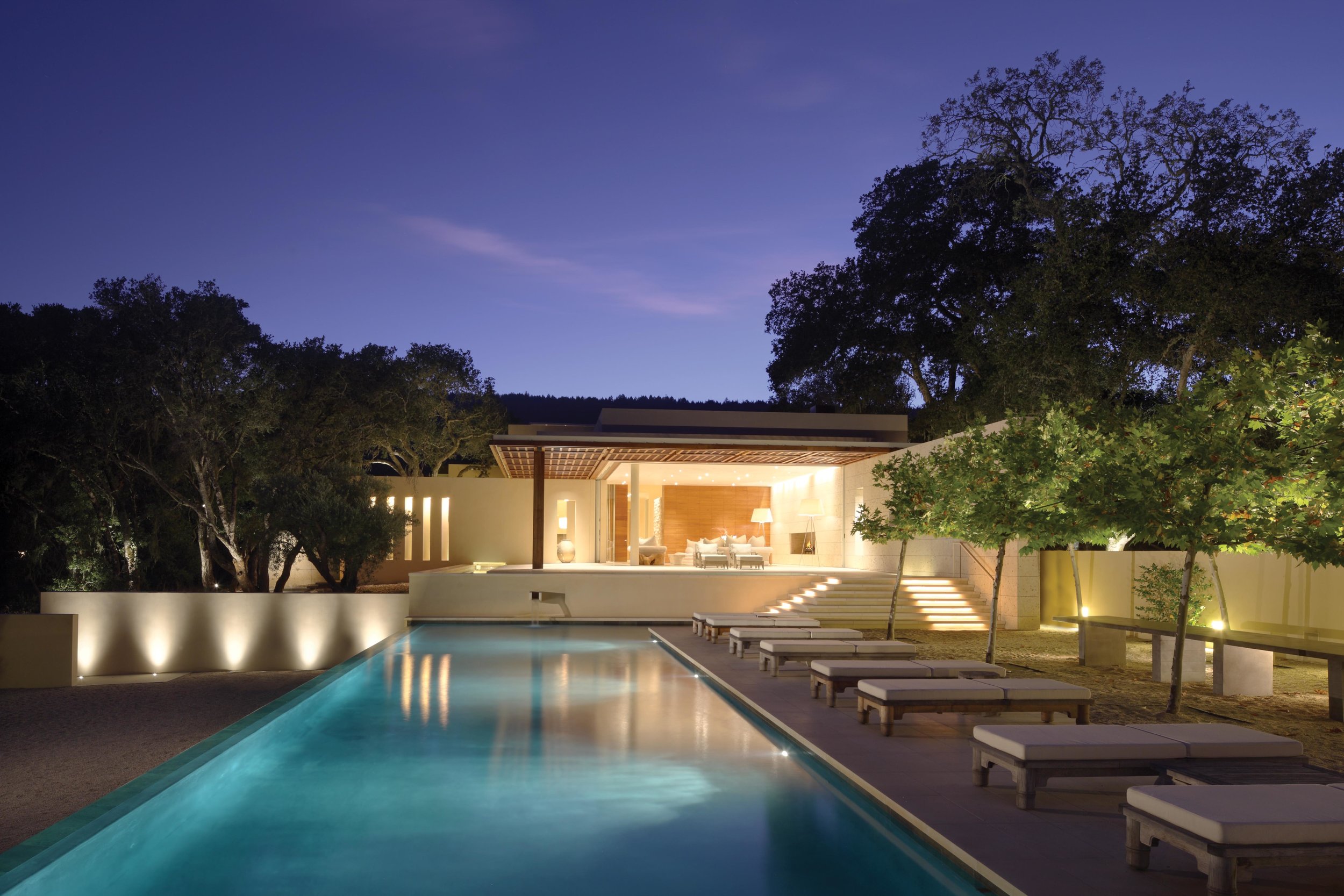 Howard Backen, award-winning principal of the architecture firm Backen & Gillam Architects, is at a center of the popular movement in home design that emphasizes comfort over pretension and elegant simplicity over complication that tends to serve the egos of architects. The firm's work is an artful exploration of this aesthetic, ranging from farmhouses in the Napa Valley, hilltop homes, seaside retreats and lakeside hideaways. Throughout Backen & Gillam Architects work, a sense of intimacy, warmth and informality pervades.
The finest natural materials, such as wood, stone and brick form the foundations, walls and ceilings of these subtly luxurious spaces, while nature itself plays a considered role that is at once complementary and also intricately conjoined with the work. The land and surrounds are as one with the structures the firm creates. Harmony is essential to the design and process, sourcing the finest local materials to seamlessly blend the residence with its terroir.
Long vistas open outward toward sun drenched valleys from the window-lined bedroom in one home, while more intimate scenes of steeply rising hillsides and hidden lakes appear from just beyond the back stoop—and the rough-hewn-board dock—of another. Sensitive, alluring and wonderfully resonant with the suggestions of invitation, the firm's work is both thrilling to the eye and restorative to the soul.
In the firm's best selling book, From the Land, actress Diane Keaton describes meeting Backen for the first time: "When I met Howard, he was exactly as I imagined: Western, charming, and not one for small talk. He suggested we tour several projects, including the Ovid Winery, the Harlan Compound, a St. Helena farmhouse, and the Witt Estate Winery. There I saw porches and drip chains and jaw-dropping views and gables and courtyards and large foldaway walls; I saw linked breezeways, whitewashed surfaces, and vineyards that made me feel the landscape instead of being distanced by it. I met a man and saw he had been given many gifts. I saw he was not a less-is-more kind of guy. He was a guy who had it all. But most of all, I saw an artist who made me marvel at something as straightforward yet as complex as the frame of a door set on a site where landscape and structure met in unity. There's a word for Howard's work. Magic. Magic, with an open-door policy."
Backen grew up in a farming community in Oregon and received his Bachelor of Architecture degree from the University of Oregon in 1962. In a 2006 speech he gave upon receiving the Ellis F. Lawrence Medal from that university's School of Architecture and Allied Arts, he spoke about his education and early inspiration. He recalled learning that every structure should be a product of its environment and that the garden and furnishings are as important as the building itself.
Backen's first job was working for the firm Wurster, Bernardi & Emmons in San Francisco, whose principle William Wurster was the famous Bay Region architect of the day, and founded the College of Environmental Design at the University of California at Berkeley. He then worked briefly for Warren Callister, another local Bay Region architect, a modernist who designed primarily in wood and was known for his Japan-esque sensibility. Backen describes Callister as the ultimate organic architect: "Everything grew out of something—whether it worked or was irrelevant." Backen went on to work for a brief stint in New York with Romaldo Giurgola before starting his own firm with University of Oregon classmates Bob Arrigoni and Bruce Ross. He remained with that firm for 35 years, contributing to such high-profile designs as Robert Redford's Sundance Institute in Utah, George Lucas' Skywalker Ranch in Marin County, and Disney's Burbank Sound Studios.
In 1996, Backen left to start a new firm with James Gillam—now Backen & Gillam Architects. He works mostly in the temperate climate of Northern California, with two offices in two of the region's most scenic towns: St. Helena in the Napa Valley, where he also lives, and Sausalito. In recent years, the firm has designed some of the finest residential properties in the state and country.
For Backen, hand-drawing is as essential and important as the computer in design. He literally draws inspiration from the site by drawing on the site. The act of sitting is as important to him as the design—indeed, the two are part of the same process. Of course, the placement of a building involves studying its geology, wind patterns, sun loads, view corridors and possible connections to outdoor space, but for Backen, sitting also means expressing the axial relationship between a building and its landscape. The directional line is essential. As you study his drawings, you see that his sketches articulate this axial relationship, and that the final building expresses the line in three dimensions.
For the past twenty years, it is agricultural architecture—vernacular wooden buildings that stand alone as barns or in multiple as farm compounds—that formed core inspiration for Backen's work. His firm has reinvigorated this design tradition blended with Backen's brand of dynamic simplicity.
Today, the firm has grown into a robust team, including principals Jim Gillam, John Taft, Luca Pignata, Silvia Nobili and Kirby Lee along with the firm's 70 employees. Together, they bring a wide range of experience to Backen & Gillam Architects' projects. This experience enables the firm to provide clients with the very best in design and project management in a number of specialty building types, including private residences, resorts, restaurants and wineries.
In the nineteen years since its opening, the firm has designed over 50 upscale homes, 40 wineries, seven major resorts, 20 restaurants, a new line of retail stores by Jim Gillam for Restoration Hardware and Williams Sonoma Home, including The Gallery at the Three Arts Club at Restoration Hardware in Chicago (see below), an equestrian center, The Napa Valley Reserve (a private members-only vineyard and winery which has approximately 400 members), and the Performing Arts Center for St. Helena.
Aside from being featured in numerous publications, many of the firm's projects have earned coveted design industry awards, including Hospitality Design Magazine's Best "Green" Design, First Honor Awards from AIA/Housing Magazine and the Presidential Award for Design Excellence. The firm has been featured as one of the top 100 Architects in Architectural Digest (2007-2016) and one of the top 30 in the Robb Report.
"The clients we are dealing with are really smart. They get it, and they listen. They are extremely bright people and they're there for a reason," Backen tells us. "One thing that expresses what we do the most is that we basically open up the house as far as you can open it. Our style is that we design with what's given. That tells you everything. The client—what their needs are and what they're trying to achieve. Generally speaking they come to us because of what we've done, so we don't have to prove anything, it's just 'do what you do,' based upon a particular site and budget. What we strive for the most is to make a house be for a specific piece of property, and all the reasons are obvious."
"It's about honesty," adds principal Luca Pignata. "It's about communication with the outside, the surroundings, the environment. This will define how the house should shelter, of course, but it should speak and communicate what is important to people, and remind them what's important."
Looking ahead, Backen and wife Ann are working with a team on further developing their wellness lifestyle vision of the firm, one that fosters community through a sense of place, where structure, products and experiences are one. The Backen Lifestyle vision is already in motion at Maha Farm. The project was born from a dream, a love story really. A love story that goes beyond Ann and Howard and extends to a destination where all the senses come together in one place.
Their ethos: A place where land is an inspiration and a foundation for something extraordinary. A place where people gather to learn, collaborate, and connect in a unique, soulful way. A place where luxury is whispered and experienced in a rustic, elegant way. A place where the highest levels of sustainability are incorporated to deliver a healthy eco-system for years to come. A place that serves as the heartbeat for the entire project, where residents and guests come together over a shared vision and feel nourished. G

Backen & Gillam Architects
BGArch.com | info@bgarch.com
St. Helena Office
1421 Main Street, Helena, CA 94574 | 707.967.1920
Sausalito Office
2352 Marinship Way Sausalito, CA 94965 | 415.289.3860