Coastal Calling
From a rural coastside ranch with private beaches, to charming seaside getaways perched on the bluffs, to chic contemporary beach houses steps from the sand, the San Francisco Bay Area coastline offers a lifestyle for everyone. In the following pages, we profile our top picks of the most coveted coastal properties currently on the market.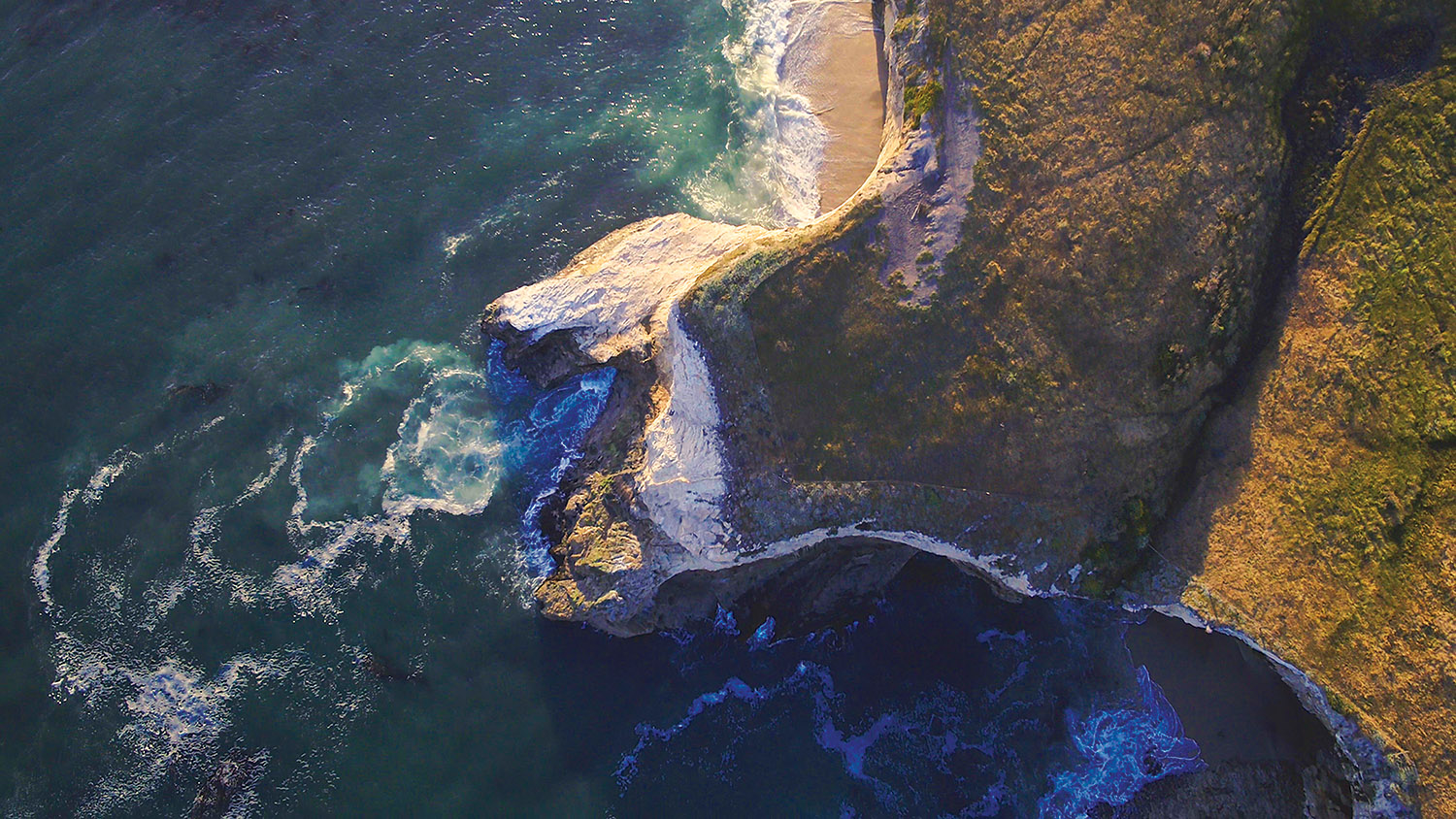 Located just an hour's drive from Silicon Valley and six miles north of Santa Cruz, this approx. 175 acre property known as Coastside Ranch offers an unprecedented opportunity to own a secluded beachfront, wilderness, organic farmlands and a 19th century, 2,200 square foot farmhouse. The ranch comprises three lots: approximately 125 acre parcel east of Highway 1 with rolling hills and headlands, a dramatic, verdant canyon with mature coastal forest and stream. The main living structure circa 1877 is complete with three bedrooms and two bathrooms located on the coastal lots totaling approximately 50 acres with secluded, fine sand beach and fresh water creek. With sweeping panoramic Pacific Ocean vistas and access to a secluded beach, this property is truly the California
of yesteryear.
Currently used for cattle grazing and agricultural farming including pumpkins and strawberries, the ranch offers a plethora of possibilities for future development including organic farmland with farm to table opportunities to serve the commissaries of Google, Apple and Facebook, or the restaurants of the San Francisco Bay Area. The ranch could also be used as a corporate retreat center, an exclusive family compound, an entertainment venue or private campground for those seeking an oasis from bustling life "over the hill."
"This unique piece of coastline has room to develop and sustainably grow crops in what feels like your own private sanctuary, with a secluded beach offering five acres of sand and surf. There are plenty of opportunities to hike through creeks, towering redwoods and oaks and enjoy spectacular elevated ocean views," says listing agent Michael Dreyfus of Golden Gate Sotheby's International Realty. This truly unique slice of California lifestyle is co-listed with Jakki Harlan of Golden Gate Sotheby's International Realty, offered at $35 million. To find out more about this property and to schedule a private tour, visit CoastsideRanch.com. G
Michael Dreyfus
Golden Gate Sotheby's International Realty
m.dreyfus@ggsir.com | 650.485.3476
Jakki Harlan
Golden Gate Sotheby's International Realty
j.harlan@ggsir.com | 650.465.2180
Adjacent to the historic Pigeon Point Lighthouse in Pescadero along California's scenic Highway 1, Bolsa Point Ranch features approximately 414 acres of oceanfront property and fertile agricultural land with multiple buildings and existing residences, including a 12,000 square foot packing facility, six rental units with garages and a historic barn. A 5 acre parcel is available for development of a personal estate.
This property has it all–sweeping panoramic Pacific Ocean vistas, lush and fertile farmland actively producing brussel sprouts and leeks, multiple existing residences that can be remodeled in their current footprints, barns, out buildings, all protected by a POST conservation easement.
The rare property which has been family-owned for generations is "highly unusual," according to listing agent Michael Dreyfus of Golden Gate Sotheby's International Realty, thanks to its unique appeal and agrarian character of the region, considered by many to be the most pristine part of the entire state's coast near an urban area. Dreyfus is co-listing Bolsa Point Ranch, located at 9050 Cabrillo Highway, with Jakki Harlan, of the same brokerage, for $29 million. To learn more about the property or schedule a private tour, visit BolsaPoint.com. G
Michael Dreyfus
Golden Gate Sotheby's International Realty
m.dreyfus@ggsir.com | 650.485.3476
Jakki Harlan
Golden Gate Sotheby's International Realty
j.harlan@ggsir.com | 650.465.2180
MONTARA CALIFORNIA
226 7th Street
The coastal town of Montara, located just south of Pacifica through the Tom Lantos tunnels, has quickly become a hotspot getaway for Silicon Valley second-home buyers. Its allure is thanks to the small town feel amid stunning natural beauty–northern ridge of the Santa Cruz Mountains to the east and the Pacific Ocean and Monterey Bay Preserve to the west. Sharks are being studied off the shores near the Farallon Islands every day; whales can be seen year-round; sea lions rest at the Fitzgerald Marine Reserve; kids play in the Cypress Forest. It's truly an ideal beach town and it's attracting a new wave of savvy, millennial buyers seeking a laid back, coastal vibe at a relatively approachable buy in.
One of the head-turning homes currently on the market is 226 7th Street, a stunning pied-à-terre that combines sophisticated interiors, high-quality finishes, artful, beach chic living just steps from the Montara State Beach and McNee Ranch State Park. The modern, luxury-inspired custom retreat features redwood clear all heart exteriors made with the utmost care and precision craftsmanship. The 1,400 square foot interior comprises four distinct, upscale spaces for creativity or repose–it's an artist's or writer's oasis, a corporate incentive, or a creator's delight. The home features one bedroom, one spa-like bathroom, a gourmet open kitchen, a large living area with soaring ceilings and high windows for privacy, radiant heating and a finished garage that can be used as an artist's studio, additional living space, or the ultimate "mantuary," and a detached studio.
Montara's primary draw has always been its relaxed coastal lifestyle amid an old-fashioned community of neighbors, and 226 7th Street offers a vibrant opportunity to begin living in a modern oasis. Being able to open your windows and doors year-round to fresh air relaxes some and inspires others. Raising a family is also one of the best kept secrets because everyone's backyard is a mutually appreciated playground; either the hills or the water. Residents here feel a world away, yet Stanford Mall, San Francisco's Mission District and three international airports are all less than an hour's drive. Marian Bennett of Golden Gate Sotheby's International Realty has the beach abode listed for $1,375,000. G
Marian Bennett
Golden Gate Sotheby's International Realty
m.bennett@ggsir.com | 650.678.1108
Sweeping views of the San Francisco Bay abound from this architecturally stunning contemporary residence in the waterfront community of Tiburon. Custom built in 2013, the more than 6,500 square foot home boasts of six bedrooms, seven bathrooms, two family rooms, a home theater, an incredible great room kitchen and more.
Perfectly sighted for unparalleled views of downtown San Francisco, Tiburon and the Golden Gate Bridge. Architectural features include Castilian Oak floors, a Murrano glass chandelier, 13 foot ceilings, a 1,500 bottle wine cellar and Fleetwood pocket sliding glass doors.
A 90" fire pit centers the limestone patio while marble bar, sink, refrigerator and barbeque adorn the outdoor kitchen. Beautifully manicured terraced gardens, mature landscaping, a stacked pebble waterfall and gated drive complete this rare Tiburon estate listed for $10,500,000. G
92MtTiburon.com
Robert Craig
Golden Gate Sotheby's International Realty
r.craig@ggsir.com | 415.720.1053
Perched atop an oceanfront bluff, this charming home with panoramic ocean views is a rare gem in the tightly-knit beach community of Capitola. Whether you're coming home from work to enjoy family time, spending a long lazy weekend at the beach, or retiring to that dream home you've always wanted, this house is your escape from the world. Unlike most homes in the area, the last house on the bluff enjoys a semi-private drive so there is little or no traffic. It is not uncommon to see whales, dolphins, seals and sea otters from the vantage point of the spacious patio. During the fall, the Monarch butterflies will often occupy the mature trees behind
the house.
The property features a 180º view stretching from the beach below, all the way to Pacific Grove and Pebble Beach, while surfing, paddle boarding, kayaking and other water sports are at your doorstep.
The approximately 3,021 square foot home, which was completely remodeled in 2007 by Robert Mahrer of RMGC, Inc. in Santa Cruz, features four bedrooms, four full bathrooms, a front den with a wood burning fireplace, family room with a gas-insert fireplace, dining room with built-in window seating, a solarium with direct ocean views and an expansive deck and patio with a separate Artist's Studio. Additional amenities include a two-car garage, gazebo with dual hammocks, a hot tub overlooking the ocean and mature, drought-tolerant landscaping. G
CapitolaBeachHome.com
Dawn Thomas
Golden Gate Sotheby's International Realty
d.thomas@ggsir.com | 831.205.3222