Silicon Harbor - Charleston South Carolina
Historic and picturesque Charleston is undergoing a revitalization, thanks to an influx of tech sector companies, foreign investment and a thriving downtown scene. We look at the current market to find out how the emergence of Silicon Harbor is changing the Holy City's real estate scene.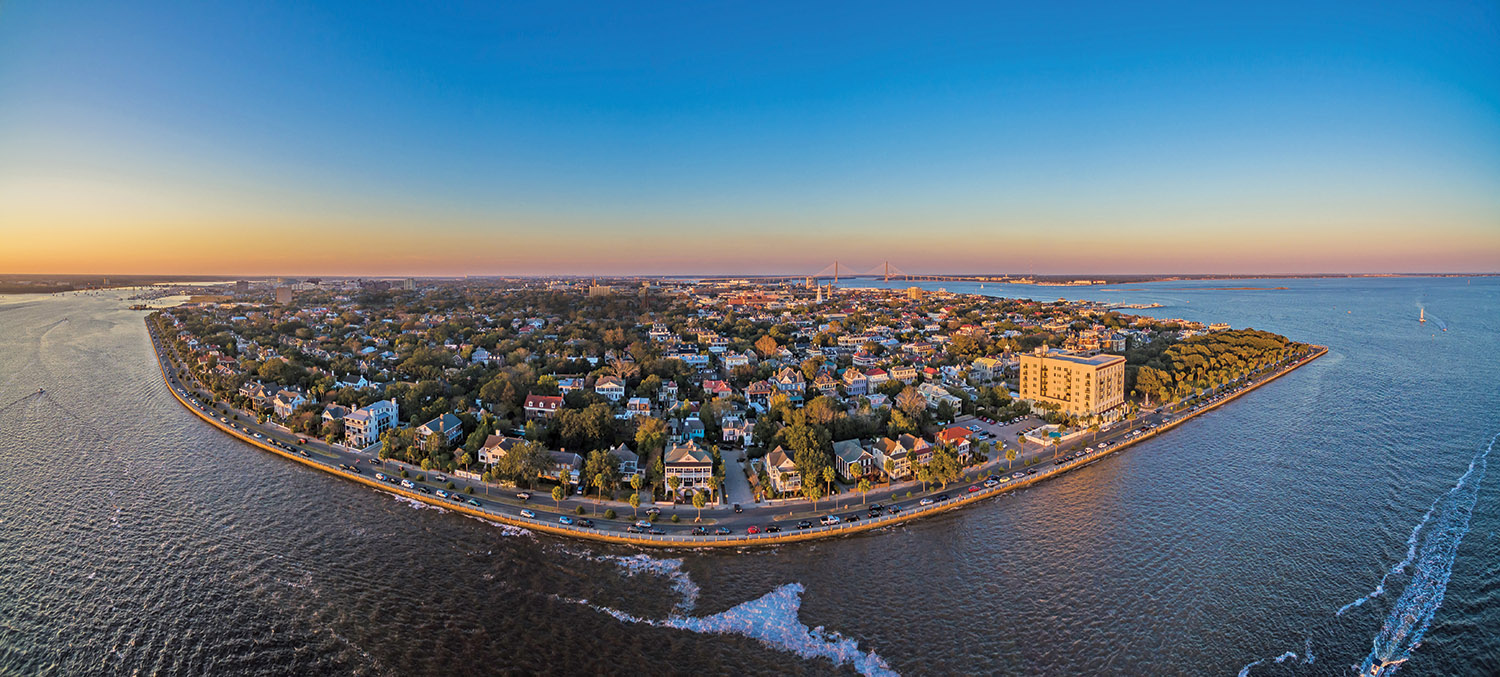 Once a sleepy town with a sleepier economy, Charleston relied on its historic roots, period architecture and subtropical climate to attract tourism and maintain its hospitality industry. Founded in 1670 and named for King Charles II, Charleston has most recently found itself on lists of America's friendliest and most hospitable cities, and maintains a unique blend of southern charm and hipster cool. The quality of life and evolving cultural and culinary scene has in the past decade attracted major economic growth in the tech sector, earning Charleston the new moniker Silicon Harbor. This boom has in turn changed the landscape of the city and its residential real estate market.
"The recent influx of highly educated and highly paid workers is fueling an increase in home prices, new developments and a revitalization of distressed areas," says Daniel Ravenel, Broker/Owner of Daniel Ravenel Sotheby's International Realty. "Global companies are also establishing large manufacturing plants nearby, including Volvo, Boeing and Mercedes, while BMW's upstate factory ships their cars around the world via the Charleston Port system."
Ravenel admits it may be a bit of a hometown bias, but says what separates Charleston from other tech hub cities is that you would be hard pressed to find another American tech scene located in a more beautiful and historic city than Charleston: "It's truly a European city. The downtown area is walkable and accessible in size which gives residents a very strong sense of place. The setting is further enhanced by the warm people in our community. It is a city that lives like a small town with a vibrant and strong downtown scene."
Alex Chalmers came to Charleston via New York and Silicon Valley, and recently launched Material Capital Partners to invest in tech growth companies and real estate projects in Charleston and beyond. "Charleston's tech sector is at the beginning of its growth curve, so it's an exciting time to be part of this inclusive community of entrepreneurs, forward-thinking Fortune companies and unique investment opportunities on all fronts–it makes it a special place to be." He cites a ten-minute commute to most meetings, an airport that makes flying enjoyable, a wide variety of housing options, a vibrant downtown restaurant scene, an active beach and boating culture, a temperate climate and collegiate energy as additional perks for people looking for a next-level life experience.
Charleston's economic growth has fueled a subsequent need for more upscale and move-in ready housing in the context of a historical city with deep-rooted pride of architectural aesthetic. Charleston was, in fact, the birthplace of the historical preservation movement in the 1920s; the Preservation Society of Charleston was the first of its kind in the country. As a result, the tearing down of an existing home to build a new one is not a typical practice in the market. "We're seeing older suburban areas going rapidly from lower middle class to solidly upper middle class," says Ravenel. "Buyers are pouring hundreds of thousands of dollars into a standard 60s ranch home, resulting in once uniform neighborhoods becoming varied in both architecture and type of residents."
Another sustaining trend is the demand for luxury lock-and-leave residences. Ravenel represents two such developments, including The Landing at St. Johns Yacht Harbor and Indigo Park in Kiawah Island, a haven known as the Hamptons of the South. Indigo Park is a collection of 16 LEED certified homes built along the river with marsh views requiring little to no maintenance. One of its prized residences, 117 Halona Lane, a modern chic 2,800± sq. ft., four bedroom, four and one-half bath new construction home with a nod to tradition and a saline dipping pool is priced just under $2.4 million.
Closer to town, Charleston's trending neighborhoods predominantly surround the downtown due to its high activity level, top ranked schools, and high concentration of hip restaurants and chic boutiques. There are several micro markets downtown as the city is separated into distinct boroughs, each with its own unique character and style of homes. "One of the hottest markets is Cannonbourough and Elliottborough located on the Charleston Peninsula. Once home to lumber mills, the area is hip with the younger set for its reasonably affordable prices compared to other parts of the Peninsula," says Ravenel. Home prices here average $600,000 with average days-on-market around 100. It's also home to some of the best new restaurants in town, including Trattoria Lucca.
9 Tradd is one of the firm's high-end listings downtown, located in the exclusive enclave known as South of Broad. Historic, charming and Instagram-ready, the area is a major draw for visitors, thanks to its pastel colored Civil War era residences, gas-lit lanterns and cobblestone streets. 9 Tradd is a rare new build on a double lot that looks historic, complete with a wine cellar, movie theater, roof terrace, massive open kitchen and luxurious guest suite overlooking the pool. Completed in 2005, the home is on the market for a cool $7.28 million.
If the bustle of town is not for you, the immediate suburbs off the Peninsula of Charleston offer a variety of housing options. Mount Pleasant is enormously popular for its stock of newer homes and great public schools. Then there's the upscale beach community of Sullivan's Island, home to full-time residents and strict restrictions on vacation rentals, keeping the island quiet and livable year-round. "The small barrier island is priced to reflect its exclusive nature, with average home sale prices around $2.3 million in Q3 2018," says Ravenel. The property to watch: 2619 Bayonne, Sullivan Island's most expensive residence, newly built in 2018 and listed with Daniel Ravenel Sotheby's International Realty for $7.745 million. G
Daniel Ravenel Sotheby's International Realty
DanielRavenelSIR.com | 843.723.7150