The Bullock / Sarkissian Team
How does the most prolific real estate team in Marin County history do it—year after year
and for so many years? We decided to ask them...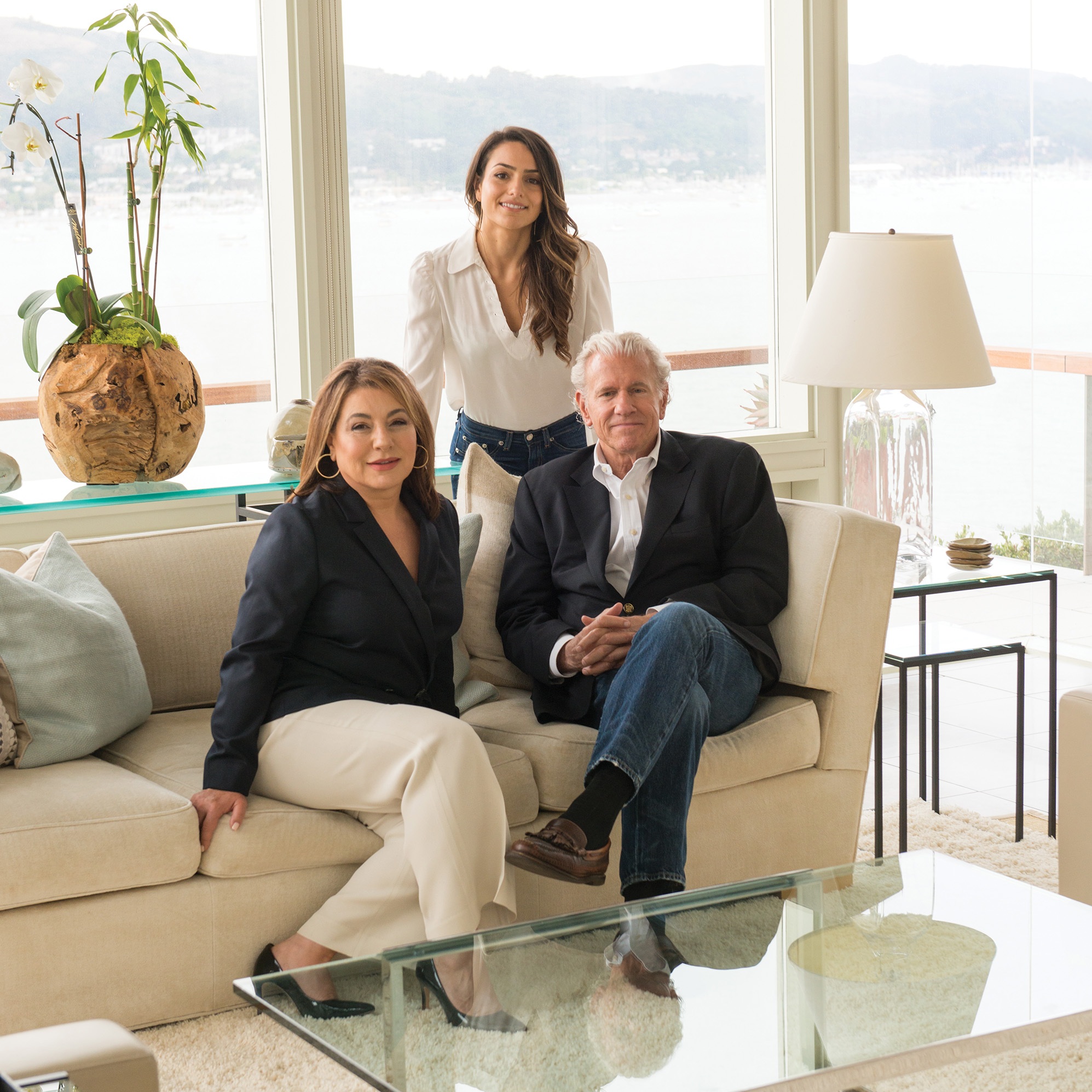 How long have you been practicing real estate in Marin County?
Lydia: 24 years.
Magda: I joined the team in 2015.
Bill: 35 years.
How long have you been working as a team?
Lydia: Bill and I began working together over 20 years ago.
How did your team get started?
Lydia: Bill referred a Tiburon listing to me, but I said I wouldn't take it
unless we co-listed. It worked so well we never stopped.
Some teams don't work very well for long—why has yours?
Bill: Our partnership has been successful because we established some principles all those years ago that we still follow today.
Can you share those with us?
Bill: Absolutely, and we hope these tips will be helpful for other teams, because you're right, very few teams survive and prosper like we have. First, we each have assigned duties that match our strengths and personal preferences. I'm an arm-garter and green eyeshade kind of guy, and I'm quite content to sit at my computer all day (and all night). So my primary functions are contracts, escrows and detailed research. I'm the wordsmith in the group. Lydia does everything else—she runs the operation.
Lydia: Once we've signed a new listing or have a new potential buyer, I take over and do virtually everything then. I show the properties, coordinate scheduling to prepare the property for market, manage the daily communications with clients and oversee operations. Once a listing or buyer gets into contract, Bill takes over again and manages the escrow and closing process.
Bill: And, of course, there are overlaps. We're both present every day throughout the process. If we see something that needs to be done, we just do it, whether it's one of our "assigned" responsibilities or not.
I said a minute ago that I'm the green eyeshade guy. Lydia is exactly the opposite. She's never met a stranger in her life and when she walks into the room it's like the sun came out. So, we do those things that best suit our personalities—otherwise, it would not have worked.
Talk more about the keys of teamwork.
Lydia: We don't keep score. If I do five Sunday open houses, I don't say to Bill, "now it's your turn." I see contracts that leave his desk at 3:00 AM because it had a deadline at 9:00 AM that morning. We learned to trust each other and carry our own weight.
Bill: We keep each other positive. The biggest challenge real estate agents have—and I've seen it for 35 years—is staying positive. There's so much disappointment in this business that it's easy for agents to become negative, even the big producers. So, if we start to get a little negative, we get each other positive again. It's critical.
We don't have many rules around here, but one very strict rule we do have is that we are extremely confidential—we do not discuss our clients' business with anyone. And that applies to all our clients—celebrity or otherwise.
Lydia: Another requirement we consider imperative is administrative support. It's easy to find assistants but not easy to find a good one. Sue Southwood is licensed and has been with us for five years. It would be impossible for us to transact the volume of business we do each year without her.
Anything else?
Bill: Yes, two things. A business development baseline is essential to ensure a minimum level of production every year. For us, it was direct mailing, but there are many different business development techniques—our advice is to try one or two that best suit your personality(ies), then continually focus on them, even when you're busy.
Lydia: And they can change with the market. Magda joined us a couple of years ago to do our social media, and has already integrated into operations. She's a significant part of our business now.
Bill: Every team needs to have a renewal factor, and that's what Magda provides—a younger perspective. I'm not a millennial, so with Magda on board now, we have an interface with an important generation that we didn't before.
You said there were two things. What's the second?
Bill: The last thing is—and I know this is overused, but Lydia and I really believe it and have based 20 years of our business on it—the most important principle is that everything has to be about the client's experience. When people deal with us, we want them to have the best customer experience they've ever had, and not just in the real estate transaction, but in any transaction. Recently, Lydia and I attended a meeting in Sonoma. A man came up to me and introduced himself as one of Lydia's and my previous clients, with whom we had lost contact. As he was telling me how he and his wife had never forgotten us because of the great job we did for them, I suddenly realized that they owned the Tiburon listing that I had referred to Lydia all those 20 years ago. We had come full circle. It made me realize that that's the effect Lydia and I want to have on every transaction we do. We want to be unforgettable. G
The Bullock / Sarkissian Team
Golden Gate Sotheby's International Realty
GlobalEstates.com
b.bullock@ggsir.com | 415.384.4000
Lic.# 00837358 | Lic.# 01159670 | Lic.# 02028978