Home on the Range
Telluride has it all: scenic beauty, world-class culture, low density and some of the finest properties in the state. Colorado's renowned mountain resort is also home to a surging real estate market and an architectural renaissance of alpine home design.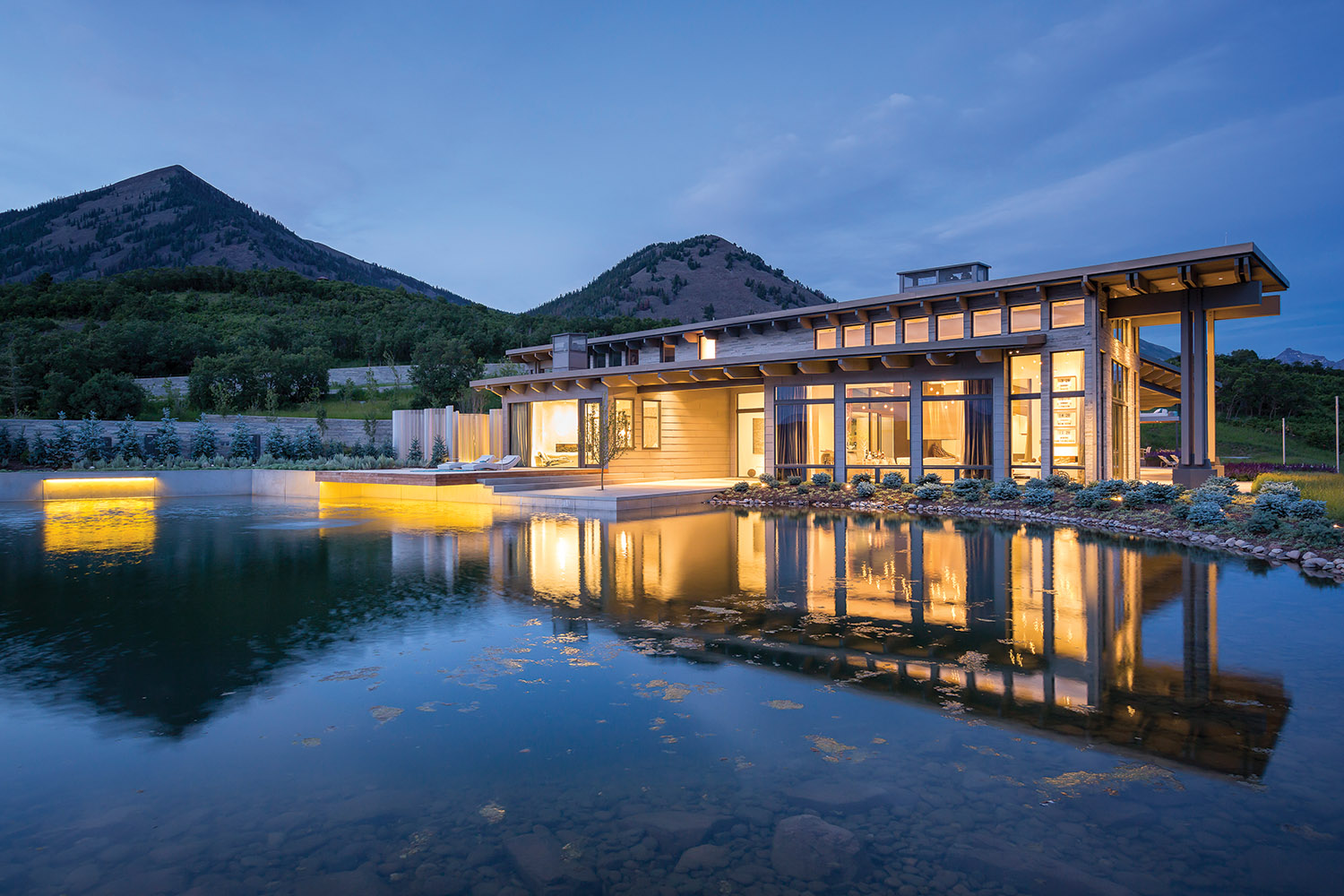 It's a truly remarkable time to discover the wonder of Telluride, Colorado as the region continues to emerge as one of the greatest mountain resorts in North America.
"Telluride offers that rare assemblage of staggering natural beauty, rich history, world-class recreational opportunities and vibrant cultural offerings that captivate the most discriminating travelers from around the globe," says Bill Fandel, VP and Managing Broker, Telluride Sotheby's International Realty. Conde Nast Traveler Readers' Choice Awards has continued to honor Telluride consecutively year-to-year in the top rankings for beauty, skiing, small-town culture, food and more.
Despite all this well-deserved recognition, Telluride and the newer Town of Mountain Village remain among the best-kept secrets amid competing resort communities nationwide. Telluride's spectacular natural surroundings, rich history and relative isolation make the area a treasure among savvy and sophisticated travelers, both domestically and internationally.
Internationally-acclaimed events such as the Telluride Film Festival, Telluride Jazz Celebration, Mountainfilm and Telluride Bluegrass Festival continue to inspire a diverse world of visitors on an annual basis. And the region is home to a vast array of non-profit organizations, such as the Telluride Foundation, whose mission focuses upon improving the quality of life for residents and visitors through targeted philanthropy and volunteer efforts.
From a real estate perspective, the Telluride market saw a surge in the second half of 2016 and the first half of 2017, with gross sales volume up 47% YTD over this time last year. Notable sales of larger single-family homes in Mountain Village, complemented by the dynamic selling activity of condominiums, penthouses
and townhomes in the core areas of both downtown Telluride and Mountain Village, drove momentum in
the market.
Over the last 30 years the Telluride Region has been on the leading edge of an architectural movement originating within the mountain resorts of the West. Borrowing from the rugged mining vernacular of the San Juan mountains, locally-based architects were soon recognized on a national level for their use of rich and rustic materials that are blended seamlessly with cleaner lines, natural light and open floor plans. Their work helped shape a trend in design known as "Mountain Modern."
The quality of design and construction found within the Telluride region rivals any found throughout the most sophisticated markets of the world. Evermore accomplished building companies, interior designers and local artisans employ the very latest technologies, materials, finishes and furnishings to deliver projects of the most exacting standards for discerning clients.
From glass and steel hideaways, to rustic stone lodges, to a Japanese farmhouse-inspired residence, we take a closer look at the finest head-turning homes on the market and the design-driven creators behind Telluride's architectural movement.
The ultimate modern alpine estate, "Paradisio" is gracefully sited on a dramatic 35 acre property and is a masterpiece of contemporary architecture. Overlooking a reflective pond mirroring views of the towering cirque of rolling meadows and 14,000 foot peaks that surround the property, the home's soaring spaces showcase sophisticated mountain living. The home's creation was a remarkable collaboration between its owners and some of the most talented professionals in the world of architecture, interior design and construction, including architect Eric Cummings.
"With a more contemporary aesthetic, there are fewer details and materials with each one having a louder voice in the overall composition. The quality of detailing ideas and execution becomes that much more important," says Cummings. "The longer it takes to notice an imperfection, the better the design and quality of construction." List price: $29,500,000.
The dramatic stone residence of ''Villa Montagna'' is inspired by the finest villas of the Dolomites and Tuscany. It is the most authentic example of traditional Italian alpine design in the Telluride region. Set high upon a knoll-top at the end of a private road with direct trailside ski access, the home offers sweeping views of mountain peaks, spruce and aspen forests and the contiguous groomed ski trails of the Telluride Ski Resort. Borne of decades of travel and collecting throughout the European countryside, the property's custom-quarried stone, tumbled brick, antique marble, centuries-old fixtures, timbers and flooring were all imported from Italy. List price: $12,750,000.
The iconic modern residence at 404 East Columbia Avenue was designed by world-renowned architect John Pawson, offering truly inspired minimalism in a dramatic alpine setting. The collaboration between seller and architect was Pawson's first commission within the U.S. and timelessly showcases the architect's attentive focus on space, proportion, light and materials, while simultaneously capturing the rugged vernacular of Telluride's rich Victorian mining era.
Occupying two corner lots in a highly sought-after location within the town's national historic district, the home's clean lines and soaring light-filled spaces gracefully frame the surrounding mountains, while lush landscaping and an elevated private deck offer the ideal place to savor the setting. For the discriminating collector of iconic architecture. List price: $5,995,000.
Among the most sought-after ski properties within Mountain Village, 110 Palmyra Drive is a beautifully hand-crafted stone estate reminiscent of a Tuscan farmhouse or Hill Country ranch. Artfully combining rich antique oak timbers with rugged imported sandstone, the home's interiors are warmly accented with long-leaf pine, clear-grain fir, rough-sawn flooring and tumbled brick. Decorative ironwork and custom-made doors and windows showcase timeless craftsmanship throughout. Large entertaining rooms, multiple guest suites and gourmet kitchen feature a total of eight fireplaces. The home's rich interior was expanded since its original sale by roughly 3,000 square feet to now include a wine cellar, media room, ski/fitness room, recreation area with bar, additional guest suites and outdoor lounge area with fire pit. List price: $9,375,000.
Nestled towering spruce trees directly trailside on the Telluride Ski Resort, 222 San Joaquin Road is a bespoke-crafted residence inspired by traditional Japanese farmhouse architecture. Its signature massive beams, wood joinery, sliding shoji doors and extensive detail and workmanship were designed by architect Michael Fuller and interior designer Andrea Jovine.
Fuller and Jovine's design concepts employ the principles of Feng Shui combined with the timeless craftsmanship of hand tools shaping rare and rugged imported materials. Hand-hewn fir timbers, sourced from a Japanese temple, frame awe-inspiring views of the surrounding mountain peaks, while clean interior lines, created with rich hardwoods, plaster, limestone and quarried rock from China, create a dramatic yet tranquil retreat. List price: $7,995,000. G
These distinctive properties are listed with Bill Fandel,
VP, Managing Broker at Telluride Sotheby's International Realty.
bill.fandel@sothebysrealty.com | 970.708.4141