Endless Summer
With sun-soaked and azure vistas, waterfront homes never go out of season. We profile some of the finest lakefront, coastal and riverfront residences for sale across the country, including a palatial lakefront estate, a rustic riverfront ranch, a soaring flat overlooking a bay and a coastal contemporary perch on a bluff.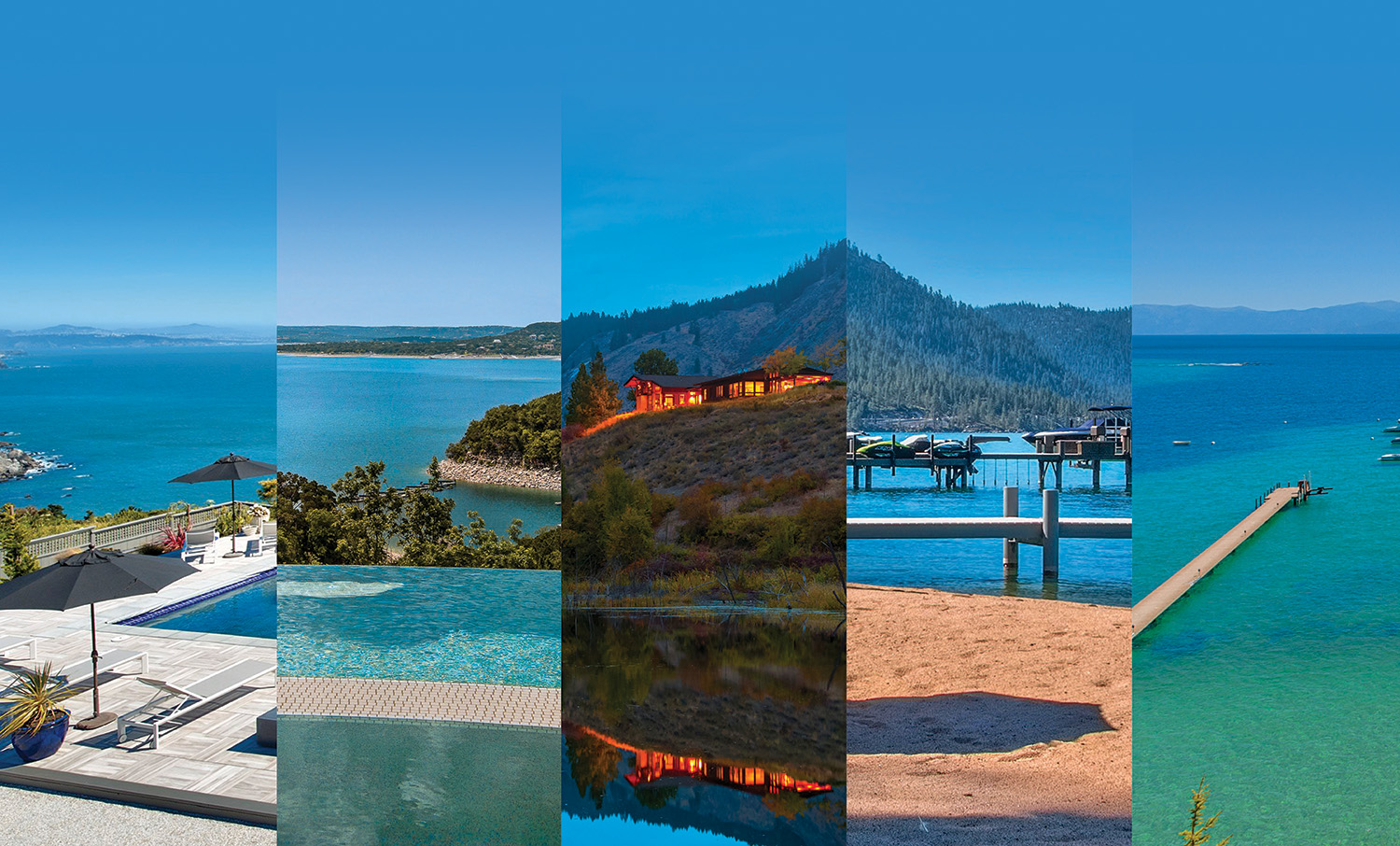 MUIR BEACH CALIFORNIA
36 STARBUCK
Muir Beach is one of Marin County's natural gems, located 16 miles northeast of San Francisco and two miles from the entrance to world renowned Muir Woods National Monument. Named after naturalist John Muir, the quaint course sand beach rises from the Pacific Ocean where Redwood Creek flows to the sea and is one of the most pristine beaches in the state. The surrounding hillsides of the coastline and adjacent valley are home to a select few—an exclusive community of less than 400 residents.
Perched high on the northern bluff above the beach is 36 Starbuck, offering a once-in-a-lifetime opportunity to live between sky and sea. An extraordinary conclusion to a 10-year project conceived, designed and built by its current owner, this property represents one of the finest contemporary homes along the San Francisco Bay Area's coastline. Panoramic views abound from nearly every room, from San Francisco and the coastline to the south, the expansive Pacific Ocean horizon to the west, to Muir Woods and Mount Tamalpais to the northeast.
"This home is one of a few coastal California properties in a class of its own. When you think about it—from British Columbia to Mexico—there's really nothing like it," says the current owner.
The owner spent years in planning and development to get the home approved and built; a feat that may not be replicable today due to increasingly tighter and tighter building restrictions in the pristine area. The result is a passion realized—a home that evokes an ethereal sense of tranquility, harmony and union with its surrounds.
From the moment you walk in the door, it becomes apparent that 36 Starbuck has set a benchmark for luxury coastal living. The finishes and features are of meticulous craftsmanship: European white oak floors (hand finished on site), a private pool surrounded by Italian porcelain tile, Ortal fireplaces, a commercial quality stainless steel outdoor kitchen by Lynx and a partially finished bonus room downstairs that could easily be a home theater or gym.
The approximately 4,630 sq. ft., five-level home features four bedrooms and four bathrooms, open plan formal living and dining areas, a grand light-filled central staircase, five-level elevator, sleek kitchen fitted with Miele appliances and quartz countertops, and numerous private terraces and balconies. Designed for California indoor-outdoor living at its coolest, there's an al fresco dining terrace, a bocce ball court, a sprawling lawn ideal for entertaining and verdant, mature landscaping. Additional highlights include a gated driveway and motor court, 2-car garage, rubber roofing and waterproofing, radiant heating, multi-speed air conditioning, Control4 music system, backup generator and video security system. G
36Starbuck.com
$9,995,000
Karin Narodny | Alex Narodny
Golden Gate Sotheby's International Realty
415.265.7488 | 415.847.0309
Lic.# 00550056 | Lic.# 01942938
MEATHOW VALLEY WASHINGTON
Big Valley Ranch
Methow Valley of Okanogan County is one of Washington's most popular year-round recreational areas, an extraordinary oasis of unspoiled natural beauty in the foothills of the North Cascade Mountain Range. The towns of Winthrop and Mazama offer an eclectic mix of Old West aesthetics, coupled with modern amenities and a wide range of cultural and outdoor activities.
In addition to world class winter skiing, Methow Valley offers spring, summer and fall activities: incredible climbing and hiking opportunities, golf, fishing, road cycling, horseback riding and river sports. The area also boasts a wide variety of cultural and arts organizations, as well as a growing range of entertainment and dining options that include numerous restaurants, breweries and galleries, along with extraordinary resort properties such as Sun Mountain Lodge and the Tom Kundig-designed Rolling Huts. Located within proximity of the burgeoning Yakima Valley wine country and Lake Chelan, Methow Valley is about a four-hour drive from the Seattle metropolitan area and Vancouver, BC.
One of the valley's most treasured ranches, Big Valley Ranch, is for sale, presenting a rare opportunity for a full-time residence or as a prized vacation escape. The ranch, built by machinist tycoon Harold Heath, is located off North Cascade Highway offering commanding up-valley views protected on all sides by state land and a 142± acre conservation easement. The residence is a singular combination of spectacular location and thoughtful contemporary design by Prentiss+Balance+Wickline that is optimized for its rural location, coupled with sublime comfort and luxury that belie its origination as a working ranch.
The home embraces the modern, while not turning its back on materials and forms native to its region, and creates a sense of place that is both authentic and full of wonder—this is country living that is both honest and evocative of its region's history, with an equal level of respect and deference to the future. A gravel drive leads to the entry courtyard around which the residence is constructed, capturing stunning views of the surrounding lands, hillsides and the riverfront below. The exterior combines modern building design with honest local materials, creating a low-slung aesthetic rooted in historic architecture, yet timelessly contemporary. A modified L-shaped floor plan naturally defines public, private and guest spaces with an effortless sense of flow and continuity that is centered by a great room with attached kitchen, and then branches out to include a dining area in its own windowed corridor, a master wing and guest wings. Each side of the house includes porch and patio areas for outdoor enjoyment and natural air flow, while terraced, board-formed concrete planting beds create multiple levels for gardening. Native plants complement the surrounding countryside and further blend this singular residence into its environment.
Despite its grand scale and voluminous rooms, Big Valley Ranch maintains a very approachable sense of modesty and casual elegance—the result of a careful collaboration between its owner and Balance Architects (now partnered with Geoff Prentiss to form Prentiss+Balance+Wickline). The design goals were to create a series of linked spaces that would flood the home with natural light and frame vistas of the surrounding acreage, while affording autonomy for owners and guests alike. The main house features formal living and dining areas, chef's kitchen, an office, screened porch and an owner's bedroom suite. The adjoining guest wing has its own private entrance, 3 bedrooms, an office and two full baths, while a covered patio connects the garage and
workshop wing. G
BigValleyRanch.us
$3,500,000
Jay Kipp
Realogics Sotheby's International Realty
206.853.9153
MIAMI FLORIDA
One Thousand Museum Residences
Miami is internationally renowned for its cutting-edge contemporary art scene, trendy nightlife, tropical beaches and year-round temperate weather. In recent years, the Magic City has also become home to a number of the nation's most prestigious cultural institutions and innovative entertainment venues, with a booming real estate market to match. And now, it has a new icon: One Thousand Museum Residences.
Located at the nexus of Miami's most iconic cultural destinations, just minutes from South Beach and the Brickell financial district, One Thousand Museum Residences, which takes its name from its location opposite Museum Park, is the latest soaring residential tower redefining six-star luxury living. Designed by the late starchitect Zahid Hadid—her first and only residential tower in the Western Hemisphere—One Thousand Museum Residences rises 62 stories above the waterfront and features 83 half-and full-floor residences and a wealth of luxury amenities including a bank-quality vault with individual safe deposit boxes for every resident, private dining area, a double-height aquatic center with an indoor pool and sky lounge on the 60th and 61st floors, and custom 12.29 scenting in all interior amenity spaces and residences by request. The literal chariot on top is a private helipad—the only residential helipad on the East Coast.
Residences magnify the experience of breathtaking Biscayne Bay and Atlantic Ocean views, as well as dynamic Miami skyline vistas. Living rooms, bedrooms and entertainment spaces have all been designed with east-to-west flow-through floor plans to capture this mesmerizing panorama. A limited collection of museum-quality residences includes duplex townhomes, half-floor residences, full-floor penthouses and a single duplex penthouse.
Floor plans range from 4,600 to over 10,000 square feet and feature 10 to 20-foot ceiling heights. Every residence offers multiple oversized terraces, each uniquely formed by the sensual curves of the tower's sculptural exoskeleton. Interiors have been crafted with the finest finishes and features by an elite team of designers, including German industrial and interior designer Uli Petzold and state-of-the-art home automation by Crestron.
Amenities reign supreme at One Thousand Museum Residences. Residents will be able to reserve the helipad and book a flight to and from Miami International Airport, nearby islands and other destinations through the tower's luxury management service. There is also an executive chef program, a "Museum-Edition" fleet of vehicles for residents' transportation, an exclusive yachting partnership with Boatsetter and access to a private beach club in South Beach's SoFi Neighborhood. One Thousand Museum is the first and only residential tower in Miami to partner with Forbes Travel Guide. On-site staff include a Curator of Hospitality and a Director of Wellness, should one need suggestions for entertainment or tips and practices for further relaxation. The tower is represented exclusively by ONE Sotheby's International Realty, with estate-sized residences starting at $5 million to upwards of $20 million. G
1000Museum.com
info@1000museum.com
305.907.2352
Harvey Daniels
hdaniels@onesothebysrealty.com
855.663.6873
LAKE TAHOE CALIFORNIA
HOMEWOOD AND RUBICON BAY
The west shore of Lake Tahoe is known for its natural beauty, historic legacy, multi-generational family estates and an overall feeling of going back in time. The area is also renowned for its white sand beaches and azure-turquoise waters that are warmer than most other locations on the lake. Two of its most desirable communities, Homewood and Rubicon Bay, are home to some of the hottest real estate on the lake. An increasing demand and influx of new buyers to these communities in recent years has subsequently spurred a modern-design movement to the timeless enclave, marrying classic Tahoe with contemporary living. Two examples of this design revival have just hit the market—Fleur du Lac and Second Wind.
If you've seen the classic Francis Ford Coppola film The Godfather II, then you'll recognize Lake Tahoe's Fleur du Lac Estates as the lakeside backdrop for mobster Michael Corleone's bash in the beginning of the film. But its history goes deeper. Fleur du Lac Estates was originally created as a retreat for wealthy industrialist, Henry Kaiser, the father of modern shipbuilding. Kaiser loved Lake Tahoe and namely his boats, so this location served him well for his home and party venue. In addition to constructing 17 residences, there were servants' quarters, small cottages, as well as his yacht club and boat house, both of which are still in use to this day. In honor of his favorite hydroplane, he christened the estate Fleur Du Lac, "Flower of the Lake."
In the 1980s, a re-birth began, which included the remodeling of some existing structures and the new construction of 22 luxurious lakefront chateaus. Kaiser's original yacht club stands today as a reminder of our American industrial history and serves as a shared space where homeowners can relax or entertain and host private events while overlooking the beautiful harbor and Lake Tahoe skyline. The famed 15± acre enclave, situated on the west shore of North Lake Tahoe offers residents a private lakefront community with exclusive access to unmatched amenities. Home to only 22 residences, Fleur du Lac's native stone walls guard the property, creating a private way of life for all residents.
Ownership of Residence 13 offers a rare opportunity to be a part of this exclusive community, situated on a beautiful lakeside meadow with expansive views of Lake Tahoe and the snow-covered mountains. The wilderness of Lake Tahoe's rugged scenery is juxtaposed here against the classic luxury of one of the area's original estates.
The 3,700+ sq. ft. residence features a contemporary interior finish with banded teak floors, picture windows, and Italian marble and granite detailing. There are three bedrooms, four full baths, a library, gourmet kitchen, dining room and living room. Fleur Du Lac Estates offers a lifestyle option that's difficult to duplicate in Lake Tahoe and brings the perfect combination of location, amenities and privacy," says Craig Miller of Sierra Sotheby's International Realty. "For a fortunate few, it is a world unto itself on the magical west shore of Lake Tahoe."
Each residence includes a private boat slip for vessels up to 30 feet long, access to Henry Kaiser's historic yacht club and boathouse, a swimming pool, year-round outdoor spa, tennis courts, exercise facilities, the Kaiser Suite, on-site management and guest services; the amenities are world-class for luxury resort living at Fleur Du Lac Estates.
Further south, down the meandering shoreline of the lake, lies Rubicon Bay, where a rehabbed mid-century home known as "Second Wind" by its current owners is on the market. The property's name was inspired by the lifestyle and relaxation it brought to the sellers—the area has a summer camp-like vibe within an upscale community. Here, the topography of the lake descends dramatically past the shelf of the sandy beach, causing the turquoise waters to quickly turn a deep indigo blue.
Second Wind has a very contemporary feel; light, bright and airy. Light wood framework and large picture windows frame the lake outside. All bedrooms have panoramic floor-to-ceiling windows and sliding glass doors. The master has especially tall ceilings and oversized doors. Every room has a deck and the main lakeside entertaining/relaxation deck has stairs directly to the lake and fine sand beach below. A world away from the traffic and tourists of Tahoe City and South Lake, it's the ultimate place to unwind. Craig Miller and Katherina Huag of Sierra Sotheby's International Realty have Fluer de Lac and Second Wind listed for $3,749,00 and $3,300,000, respectively. G
Craig Miller | Katherina Haug
Sierra Sotheby's International Realty
530.583.1770 | 530.209.4980
Lic.# 00558115 | Lic.# 01979758
LAKE TAHOE NEVADA
INCLINE VILLAGE AND MARLA BAY
Crystal Bay on the northeast shore of Lake Tahoe is known for its azure waters, panoramic views of the lake, soft sand beaches and epic sunsets due to its west-facing vistas. It's also home to some of the most expensive waterfront real estate on the lake, priced above $15 million currently for home with beach and piers. Three homes have traded hands here from $25 - $35 million in the past three years. Incline Village is its most exclusive enclave—a tightly-knit community of residences lining the coveted waterfront and ascending into the hillside.
Surrounded by greenbelt and national forest land, Incline Village was stablished over 35 years ago and is known as the "Jewel of Lake Tahoe." Residents of Incline Village not only own their property, but also own all the community facilities, including private beaches, the Diamond Peak Ski Resort, tennis complex, the recreation center and golf courses—all of which are maintained by a local agency (Incline Village General Improvement District).
Currently, there are three super prime residences for sale among only 20 homes with private or adjacent piers: 1145 Vivian Lane, 1170 Vivian Lane and 863 Lakeshore Boulevard.
1145 Vivian is a premier lakefront estate boasting a wide, sandy beach and private steel pier stretching out into Lake Tahoe's legendary waters. The gated estate is located at the end of a quiet road, well off Lakeshore Boulevard's busy thoroughfare. Past the entry gates, the grounds are meticulously maintained and the south-facing home sits atop a knoll above the beach, offering a prime vantage point above the lake. The neighboring homes are set back and do not obstruct the panoramic lake views from east to west.
The 9,469 sq. ft. mountain lodge features exposed log detail with unimpeded lake views on a beautifully landscaped approximately one-acre lot. The home was constructed with extensive use of structural steel and concrete, with dense Montana logs on average 75 years old, making them very stable. Over 400,000 pounds of hand-picked, flat faced stone was used for the exterior and interior fireplace hearths. Mining permits were procured by the owner to harvest stone locally.
There is an indoor pool with retractable doors and an attached beachside cabana with full living quarters opening to the private 125-foot long beach. A lakeside patio with outdoor grill leads to the outdoor spa and easy access down the terraced garden to the beach, with boat and jet skis on lifts under the covered pier and two permitted boat buoys.
Nearby 1170 Vivian Lane is new lakefront construction at its best—a beautifully detailed home with spacious room fronting an association beach with common pier adjacent to the home and boat mooring. The open floor plan features a great room with gourmet kitchen leading out to a verdant, landscaped yard and patio with panoramic views. The main level features a large master suite, family room/home theater and an office with lake views. A mud room leads to the three-car garage and has a bathroom with access to an outdoor shower leading to the beach. The upper level has three en suite bedrooms, two of which feature fireplaces.
863 Lakeshore Boulevard, known as the "Bears Lair Estate," is another waterfront home featuring 100 feet of shoreline with a shared pier, electric boat lift and a buoy. The 6,197 sq. ft., two-story home's architectural highlights include a plethora of floor-to-ceiling windows framing the lake views, dramatic cathedral wood-beamed ceilings, stone and fine carpet flooring and skilled craftsmanship and finishes throughout. The home has four bedrooms, five bathrooms, a wine room and large open plan living spaces creating the perfect stage for entertaining. And if guests don't want to pull away from paradise, there's a spacious apartment/guest quarters over a three-car garage.
Heading south along the lake's eastern shore to Zephyr Cove, fall colors explode in the aspen grove leading down to the shorefront estate 550 Sierra Sunset Lane in Marla Bay. The lakefront home is clad with over 400 tons of Montana bluestone, with covered terraces and an arched entry lending to the grand scale. The main drive winds along the meadow to the home's gated entry and motor court, with guest home opposite the main house. The home is set on 378 lineal feet of sandy beach with a private pier, boat hoist, a boat buoy with unobstructed lake view and the Sierra Nevada mountains as a backdrop to the west.
Upon entering the main residence, the entry foyer is surrounded by a curving staircase leading to the second level, and opens to a grand lake view beyond the formal living room cast with two-story windows. The main living area features a gourmet eat-in kitchen with pantry and butler's prep area adjacent to the formal dining room with grand fireplace. A cooled wine room with leaded glass windows and tasting area is located adjacent to the dining room. Off the kitchen, an informal family room with a grand fireplace and two-story windows and doors opens to a lakeside patio running the length of the home. A large entertainment room with home theater offers a full bar area, pool table and fireside lounging. The first floor also hosts adjacent offices with a master suite to the north end, including a home gym with sauna and steam shower, large walk-in closet and grand master bath.
The second level boasts another seven guest suites—most with fireplaces, covered lakeside terraces and luxurious bathrooms. Second floor amenities include a wash room, library and kids' bunk rooms under the eaves with old world character. The upstairs hallway features gallery lighting and overlooks the great room and family rooms from the balconies above. A back stairway leads down to the lower level hall by the second laundry room and mudroom leading to the garage. At approximately 16,703 sq. ft. of living space on two levels, this trophy property is one of the largest homes on the lake.
Opposite the main home is a 1,448 sq. ft. guest home that features a kitchen and living area with fireplace and plantation shutters, as well as two bedrooms and en suite baths, a full laundry room and a four-car garage below and adjacent storage building and generator enclosure.
The adjacent property at 560 Sierra Sunset Lane is also offered separately at $6,995,000. This parcel includes equestrian facilities located by the front entrance, boasting stables with 15 stalls, wash rack, grooming area and office. Paddocks off the stables lead to the open meadow with water rights for irrigation. Additionally, an approximately 1,348 sq. ft., two-bedroom caretaker's home is adjacent to the stables and the front gate, with outbuildings for storage and equipment. This property also includes access to the lake and sandy beach with option for a buoy if sold separately. G
TahoeLakefronts.com
Lexi Cerretti | Janet Pahl
Sierra Sotheby's International Realty
775.833.1646 | 775.745.6826
lexi@sir.com | janet.pahl@sir.com