City Lights Riviera Life
Old money, tech money and foreign money continue to flock to Belvedere and Tiburon. From trophy estates to tech escapes to new build mansions, we look at some of the finest residences currently on the market listed with the Bullock & Sarkissian Team, as well as the stunning scenery that make the enclave one of the most desirable places to live in the San Francisco Bay Area.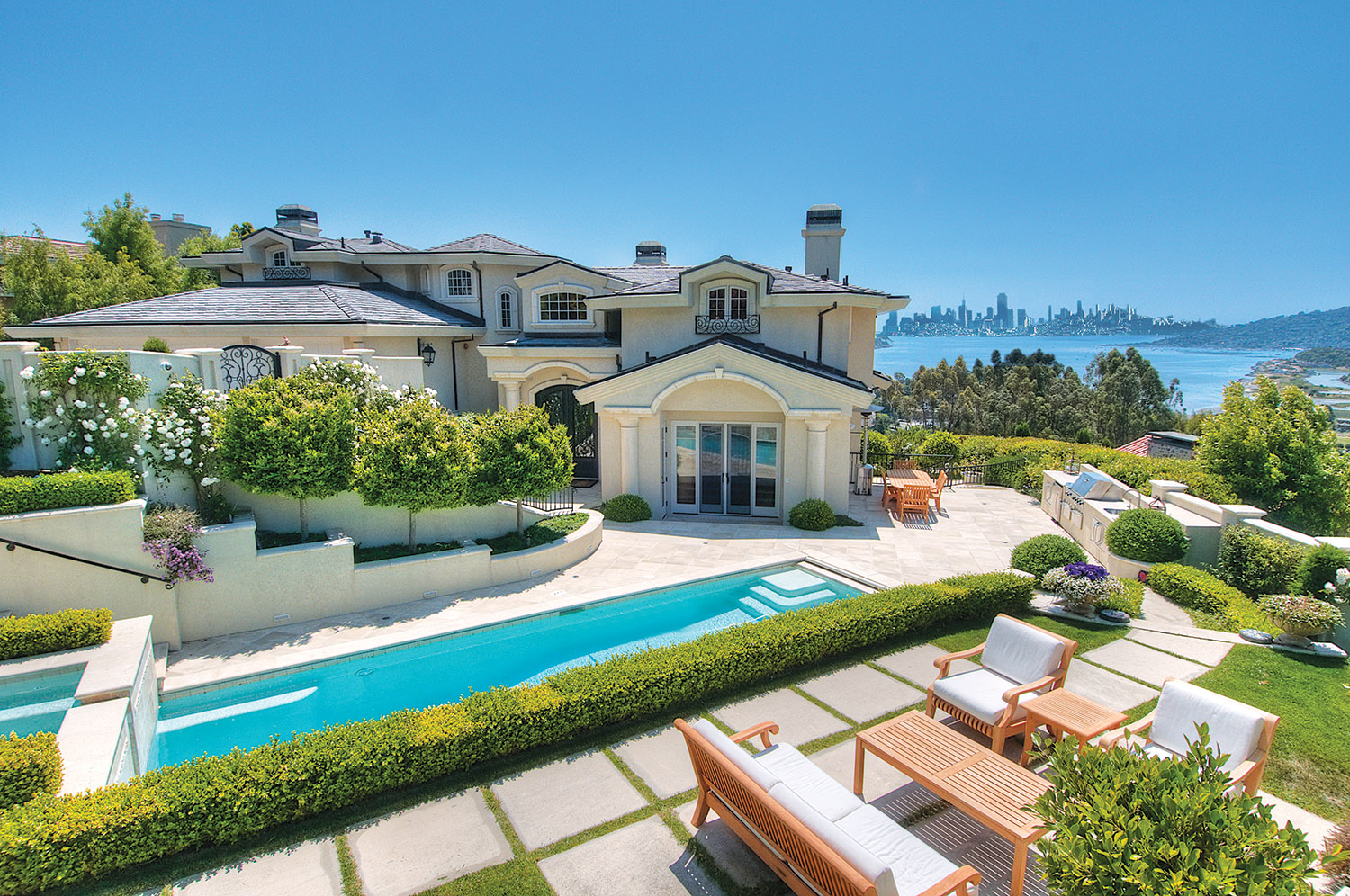 The island of Belvedere and the Tiburon Peninsula have a history of affluence. Situated prominently on the San Francisco Bay, the enclave was once a summer destination for the city's wealthy elite, many of whom owned Victorian-era second homes here. Before the construction of the renowned Golden Gate Bridge, which links San Francisco to Marin County in the North, the area was accessed primarily by boat at the historic landfall pier. The well-heeled of the time chose Belvedere and Tiburon as a place to congregate because of its high-end residences, comfort and safety.
Belvedere's unique positioning just off the Tiburon Peninsula has everything to do with its attraction. Located at the southeastern base of Ring Mountain, between Richardson Bay and the town of Tiburon, Belvedere consists of two "islands" and the Belvedere Lagoon between them. The larger of the two islands is Belvedere Island, and the smaller is Corinthian Island, which is shared with nearby Tiburon. The Ring Mountain area is notable for its archaeological resources of extant Native American petroglyphs, as well as the considerable biodiversity of native plants.
The congregation of wealthy residents remains today, and is perhaps more affluent and exclusive now than at any other point in history, thanks to the emergence of San Francisco as a world-class city and the rise of Silicon Valley. Belvedere and Tiburon are consistently ranked as some of the highest-scale neighborhoods in the country. Surrounded by water, the area provides its residents with panoramic views. Real estate for sale consists of primarily single-family homes running at an average price of $3-4 million. Unlike its neighbor across the bay, San Francisco, Belvedere rarely sees the ubiquitous fog blanket; coastal breezes keep the air fresh and clear, and the temperatures moderate all year. Ideal weather, jaw dropping views and exclusivity are its main selling points.
Belvedere is made up of three high-end neighborhoods–Belvedere Island, Belvedere Lagoon and Corinthian Island–each with their own properties and charms. Some homes sit in the flats on the Lagoon while others are located above on private streets, enjoying views of the bay, San Francisco and the Golden Gate Bridge. Tiburon offers a plethora of lifestyle properties, from waterfront city-view homes to hilltop residences to exclusive gated estates with acreage.
In these communities, staggering price tags compete with global markets like Monaco, New York City and Hong Kong, but experts believe that the often-astronomical sums are worth every million. The Bullock and Sarkissian Team of Golden Gate Sotheby's International Realty, has had its hand in the market for over two decades and is linked to over $1.5 billion in closed real estate transactions in Marin County.
Catering to predominantly repeat and referral-based clientele, the Bullock and Sarkisisan Team—comprising Bill Bullock, Lydia Sarkisisan and Magda Sarkissian—concentrates exclusively on the upper-end Marin County residential real estate market, with serious market share of Belvedere and Tiburon's ultra-prime listings.
Tech money has had a major influence on the Bullock and Sarkissian Team in recent years. Magda Sarkissian, daughter of Lydia Sarkissian, who joined as a full-time agent last spring, double-ended her first real estate deal—off-market—to a tech tycoon, for a cool $10 million. She has also seen an increasing trend: home buyers purchasing properties in the area with money made in cryptocurrency. In fact, one of their current listings, 408 Golden Gate Ave in Belvedere, has a finance executive seller who is willing to accept cryptocurrency payment for the home sale, listed for $5,995,000.
Return clients and tech money are not the only players driving the market. Foreign buyers and interest from abroad has also increased in the past decade. Lydia Sarkissian has sold numerous properties to foreign buyers, many of whom are attracted to the area's modern, new build homes with privacy and global-luxury standard amenities.
28 Teaberry in Tiburon is just that, a completely private estate built and designed by Armen Nersisyan with All Fusion Construction Inc. The estate is a world away from it all with views overlooking the bay from Mount Tamalpais to the Richmond-San Rafael Bridge. Approached down a grand, gated drive leading to a motor court, the approximately 6,100 sq. ft. home is a master of contemporary architecture. Every room in the three-level structure takes advantage of the views, welcoming the outdoors in, as do the sprawling terraces surrounding the view side of the home. The property is listed for $7,495,000.
Ready for move-in, 91 Via Los Altos in Tiburon is a contemporary yet classic home with panoramic vistas high atop Tiburon. Enjoying direct San Francisco skyline views, the sun-soaked hillside home is ideal for a family or entertainer, with manicured, view-side gardens furthering the appeal of this pristine oasis, listed for $6,995,000.
Trading up, or buying up multiple lots, is also a trend for those fortunate enough to be able to do so. Perhaps the most extravagant example of this is the purchase of the Kodak Estate on the southern-most tip of the island. Nearly 30 years ago, a very wealthy–and private–individual bought the coveted property for an undisclosed price (although record rumors buzz) and proceeded to purchase two adjacent properties over time, including a separate boat house.
Today, the Bullock and Sarkissian Team currently have an ultra-prime lot on the market for a savvy buyer looking to build their dream home at 12 Crest Road, Belvedere listed for $7,495,000. Captivating views, water vistas and western exposure define this rare, mostly level, approximately .675 acre property high atop Belvedere Island overlooking San Francisco, the Golden Gate Bridge and picturesque Sausalito.
There's also 2800 Paradise Drive, known as "The Bluff Point Estate," a 14.5± acre property with 2,000± ft. of San Francisco Bay shoreline—an extraordinary parcel of prime undeveloped waterfront land within minutes to downtown Tiburon and the Golden Gate Bridge, available for the first time in over 100 years for a reasonable $29 million.
Just next door, 2900 Paradise Drive is coming to market, a sprawling hillside and waterfront estate featuring a main villa, boat house, guest house, park-like grounds and a sandy beach. The property is one of the most highly anticipated listings in Tiburon, priced at $49,500,000.
Despite a notable pause in activity in the prime luxury market at the end of 2017 through the beginning of 2018, the market has picked up since Q2. When asked if the Belvedere and Tiburon markets can maintain this upward trend, Bullock pointed out the underlying factors in its favor: "It's an island and a peninsula. Both locations have some of the best views worldwide and we often take that for granted, especially on the west side of the Belvedere Island where views are incomparable to anywhere. It's safe, exclusive and the wealthy have–and always will–congregate here." G
Bullock and Sarkissian Team
GlobalEstates.com
Golden Gate Sotheby's International Realty 415.517.7720 | l.sarkissian@ggsir.com
Lic.# 00837358